The fall of 2007 marked the 30th year of karate in Deep River. Chaplin-sensei (4th Dan), one of the founders of the club, decided to mark the anniversary with a contributed article in the local newspaper, The North Renfrew Times (NRT). It was published (reproduced below) alongside a picture featuring Chaplin-sensei with fellow instructor Lee-sensei (2nd Dan), and Chaplin-sensei's son, Ryan and eldest daughter Ann, both of whom are also black belts in Shito-Ryu Itosu-Kai. While Ryan Chaplin sensei (1st Dan) is traveling the world, Ann Chaplin sensei (3rd Dan) is currently in Toronto where she trains at honbu and if you are lucky, you may catch a vocal performance of Ann's (Ann won a best new song award for Without Warning, click for audio samples). If you attend one of the semi-annual tournaments, Shihan always do his best to get Ann to sing O' Canada for us.
Ron Rogge took over management of the club in 2005 made possible by Ryan Chaplin sensei providing instruction in the fall of 2005. Though Ken Chaplin and Paul Lee senseis started their retirements from karate in 2005, both Ken and Paul would help out occassionally for several years. Ken Chaplin sensei is still formally recognized as the Head Sensei to honour his founding of, and over 30 years in, the Deep River Karate Club. Ken Chaplin Sifu now teaches Tai-Chi in Deep River.
I have had the honour of learning karate from all four of these talented senseis, and today strive continuously to achieve their high standard.
Rogge-sensei
3rd Dan Karate, 1st Dan Kobudo
---
Thirty Years of Karate in Deep River
By 1977 Dave Martin and I (Ken Chaplin) were tired of driving twice a week to the Pembroke Shito Ryu Itosu-Kai Karate Club, then under Bill Pinkerton. This had been going on for a few years and it was time to start a karate club a little closer to home. Together we organized the Deep River Karate Club. This was a simple task due to the low rents and help from the Deep River Community Association to buy insurance and help organize the club. We were able to get places to workout at low cost, first in Cockcroft School, then Hill House, then Morison School for 1977/78, then finally in Keys where we stayed until 2004. The first few years we charged a token membership fee of $1.00 per month, $10.00 for the whole year Ė pay when you can.
Quite a few people came out for the first class of the new club. This was reassuring since, unlike established clubs in larger centres that had many high-ranking instructors, neither Dave nor I were black belts at that time. Ashok Balakrishan and his father came out the first night. Although his father quit in the first month, Ashok became the first black belt trained only in Deep River. This was not the only martial arts in town; Tim Southwood ran a Tae Kwon Do/full-contact club as well. Dave, Tim, and I got together often to train and go to open tournaments. In 1978 Dave Martin moved to Sheridan Park. Luckily, Gerry and Mary Tooley also tired of driving to Pembroke and joined the Deep River club.
In 1978. Deep River started hosting the grading of students to higher belt levels once a year, with Pembroke also hosting it once a year. Tsumura Shihan, Canadaís chief instructor of Shito Ryu Itosu Kai karate, traveled from Toronto with his senior students twice a year to run every one of the gradings; that would be 60 to 70 trips from Toronto from the 1970ís to now. The amount of effort Tsumura Shihan put into running the gradings and giving seminars was enormous and is very much appreciated.
By 1979, the year I received my black belt, the club had grown and needed the big Mackenzie gym to grade the Deep River and Pembroke students. Frank Feisthauer and his son and daughter joined in 1978. He brought many adults from NPD and the Nuclear Training Centre into the club. Frank went on to become a Fifth Dan black belt and ran a club in Port Elgin for many years. Dave Mercier also joined in 1978 and went on to become a Fourth Dan black belt and helped run the Deep River club for years before moving to Ottawa and starting a club there.
Twice a year the Deep River Club went to Toronto for tournaments. We did extremely well, once winning more events than any of the other, much larger schools. In 1979 I moved to Waterloo for grad school; Gerry Tooley took over, and the club continued to grow and prosper. In 1980, Dave Martin, Gerry and Mary Tooley and I (then living in Waterloo) all went to Tokyo to participate in a tournament with competitors from around the world. The trip and the tournament were amazing. The Japanese welcomed us, offered us food, lodging, karate training, and guided tours for the two weeks we were there.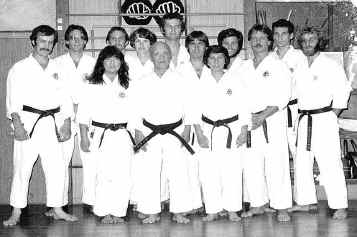 c. 1980 In this picture of the Canadian team sent to Japan. Chaplin-sensei is 4th head from the right. Sakagami-soke, world-wide leader of Itosu-kai karate is front and centre (8th head from the right).
In the early 80ís Gary Arbique and Jean-Pierre Letourneau became black belts. In 1983, Gerry and Mary went to the Yukon and opened a club and Dave Mercier took over the club. Ima Kalos, Paul Lee, and Linda Deverno joined the club also in the 1980ís. Linda had already received a black belt in our style and was able to help teach between stints in graduate school and raising a family. In 1988 Dave Mercier left for Ottawa and I, who had returned in 1984, became chief instructor again, assisted by Gary Arbique. Before long Gary Arbique went to Texas to work on the Super Collider. Luckily Ima Kalos and Paul Lee obtained black belts and were able to help teach with Linda Deverno and myself.
In the 1990ís Ima Kalos moved to Sheridan Park, and Linda Deverno was transferred when the Petawawa Forestry Institute closed; this left Paul Lee and myself running the club. Most members in the club were adults up to the mid 1990ís. In fact there hadnít been a junior class until the mid 1980ís. Sean and Steve White joined as eight year olds in the early 1990ís and went on to become black belts and, very important, they helped teach the junior class. A lot of juniors joined in the 1990ís and these became the core of the club. Jim MacDonald, Yasha Khatamian, Ryan and Ann Chaplin all became black belts. Other great students joined at young ages and stayed for about 10 years, for example: Lisa Lindqvist, Karthik Tennankore, and Tasha Balla-Boudreau. The down side of having these great, young karate students is that they all leave, all too soon.
These teenagers formed the nucleus of a group that went to many tournaments and won many trophies. Ann Chaplin is still winning trophies. These annual treks to Toronto for tournaments became an important and memorable part of the year. Especially memorable was Lisa Lindqvist waking at 5:30 AM on the morning of a tournament, and finding a flaming stack of CDís a few feet away from the sleeping Jim and Norm MacDonald, Ben Myers, and Yasha Khatamian. After shaking off the initial shock, Lisa woke Jim, who mumbled, ďYou have your shower first...I donít want to get upÖĒ When he realized that the expression on Lisaís face had nothing to do with the shower-schedule, they both jumped into action, waking up and saving the lives of everyone in the house. Everyone rushed outside, just in time to see the whole house explode into flames and burn to the ground when the oxygen hit it. The fire fighters were surprised that anyone survived, since the fire had actually started in the wall several hours before and carbon monoxide was at dangerous levels.
How many students joined the club? Hard to estimate, some years there were over 30 first-timers, other years probably only 10. I believe that over 500 people joined over the 30 years. Some years we had as many as 70 students enrolled, other years only 25. At times we had up to six black belt instructors, and other years only one.
What were the governing principles of the club? First, we always taught self-defense; partly because it was fun, challenging, and interesting; also because it was important. In the 1990ís, some well advertised crimes in Ontario made us refocus our teaching to ensure that students, females in particular, learned the attitudes and techniques required to defend themselves; hopefully we were successful. Making the training more realistic forced us to walk the thin line between avoiding injuries and developing skills and attitudes required to deal with an attacker successfully. We had some injuries, but not a lot.
A second principle was maintaining high standards. Martial arts are complex and require years of hard, consistent training to develop the necessary skills and attitudes. We tried to make sure that people advanced no faster than their ability. As a result, our black belts understood karate and how to apply it. Third, we tried to communicate a love of martial arts in general. We grabbed opportunities to have outside instructors teach about other martial arts. The final principle was ruthless elimination of paperwork. An annual meeting was interested participants and some beer. Record keeping of students, dues, and progress was a notebook. We tried to collect dues once a year only. Everyone was a volunteer, so costs were low and bookkeeping minimal.
There werenít many disappointments really. Experience in Canada and the US suggests that less than one percent of students become black belts. We certainly had reasonable success, with about 20 black belts in an estimated 500 students. However, about 20 of our most senior students and instructors moved away since 1990; more will leave in the coming September. Also, difficulties in the nuclear industry became our difficulties. Low hiring rates at CRL meant few young adults became students who could take over as teachers. Luckily for Deep River, Ron Rogge caught the bug and became the new chief instructor of the Deep River Karate Club.
A worrying trend is the increasing complexity being forced upon clubs. Costs are forced up due to higher rental costs and fear of litigation. Insurance is ever more necessary. An established club can often deal with increased costs and regulations. Starting a club in this environment is another matter. The Deep River Karate Club only exists today because the Board of Education school rent increases were rescinded. Our thanks go out to the people that helped make that happen.
I think the last 30 years demonstrate the positive things that can happen when you do something you love and share it with others. Thanks go out to everyone who contributed over the years, in particular Paul Lee who put in thousands of hours. Thanks also to Tsumura Shihan for his huge effort to keep the Canadian association going and several dozen trips from Toronto to Deep River and Pembroke. Appreciation, encouragement, and help when needed goes out to Ron Rogge who will keep this thing going.